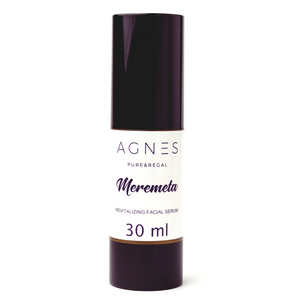 Meremeta
Regular price
KSh1,400.00
KSh0.00
Unit price
per
REVITALIZING FACIAL SERUM
Infused with a delicate blend of vitamin C rich watermelon extract, glow enhancing and anti-inflammatory turmeric extract and moisture enhancing hyaluronic acid to keep your skin hydrated and radiant. Coupled with skin powerhouse niacinamide, acetyl glucosamine and tranexamic acid to target skin discoloration and revive skin tone.
Formulated with 5% niacinamide, 5% tranexamic acid, 5% acetyl glucosamine and 1% hyaluronic acid.
skin friendly pH
30ml airless pump bottle/ 30ml glass bottle with dropper
DIRECTIONS
Use 3-5 drops twice daily after cleansing and toning on slightly damp skin.

If using in the morning, follow with a broad spectrum SPF 30+ sunscreen and limit sun exposure while using this product.
Do not use on irritated or broken skin. If irritation occurs, discontinue use.
INGREDIENTS
Aqua, Hyaluronic Acid, Curcuma Longa (Turmeric) Root Extract, Niacinamide, Citrullus Lantus (Watermelon) Fruit Extract, Centella Asiatica Extract, Camellia Sinensis (Green Tea) Leaf Extract, Tranexamic Acid, Acetyl Glucosamine, Sodium Citrate, Propanediol, Gluconolactone, Sodium Benzoate, Hydroxyethylcellulose and lots of Love.
KEY BENEFITS
W A T E R M E L O N   E X T R A C T

hydrating, rich in antioxidants, brightening
T U R M E R I C  R O O T  E X T R A C T
anti-inflammatory, antioxidant, radiance
N I A C I N A M I D E
pore reducing, anti-aging, restoring, brightening
T R A N E X A M I C  A C I D
anti-inflammatory, repairs skin barrier, improves hyperpigmentation 
H Y A L U R O N I C  A C I D
anti-aging, enhances moisture, calming
A C E T Y L  G L U C O S A M I N E 
anti-aging, exfoliating, improves hyperpigmentation
---